The Plus-Size
Pregnancy Website
Empowering Information
for Women of Size
(and women of all sizes)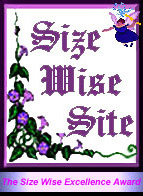 The purpose of this website is to discuss "obesity" and pregnancy, address questions and concerns about pregnancy and birth in women of size, and to help women of size have more empowered pregnancies and births. This website also contains much general pregnancy information useful to women of all sizes. Welcome.

Click here to see the Main Index page This website last updated June 2009

P.S. Check out my new blog!! www.wellroundedmama.blogspot.com

DISCLAIMER: The information on this website is not intended and should not be construed as medical advice. This is a website by health consumers for health consumers; please do not ask for medical advice. Consult your health care provider. Click here to see Website Disclosure Information about this website and its author.
All Materials Copyright © 1996-2009 Kmom@Vireday.Com. All rights reserved. No portion of this work may be reprinted, reproduced or sold, either by itself or as part of a larger work, without the express written permission of the author. This restriction covers all publication media, electrical, chemical, mechanical or other such as may arise over time. Correspondence to: kmom at plus-size-pregnancy dot org.